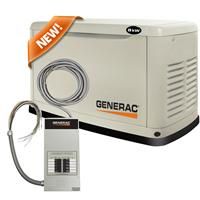 GUARDIAN SERIES
Fully Automatic - Starts within 10 seconds of a power failure
10kw, 14kw, 18kw, 22kw, and 24kw models available.
Managed Whole House protection.
or
Complete Whole House protection...
Generator Package includes complete system - delivery, gravel base, Generator - w Automatic Transfer Switch, connected to your home, and tested for proper operation.
SAVE - $250.00 OFF your
New Generac Automatic Standby Generator when you mention code 250GEN when you contact us.



Evolution™ Controller
The next generation of intuitive controllers featuring a multilinual, two line LCD text display with color-coded, backlit buttons.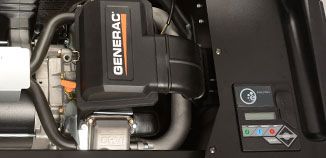 A Generac Generator provides power protection for your home, ensuring the necessities remain powered during an outage. Run your Well Pump, Furnace or Boiler, Sump Pump, Water Heater, Refrigerator, Stove, Microwave, Dishwasher, Washer, Dryer, Air Conditioner, Lighting, Bedrooms, Computers, TV, Security System and more! You decide which items that you want powered during a outage, or power the whole house. DST Electric will size the generator and transfer switch to meet your needs. The most affordable automatic standby generator on the market.
16 Circuit Automatic Transfer Switch with Built-in Emergency Load Center.
Whole House Managed Power Automatic Transfer Switch
Natural Gas or Liquid Propane Vapor Fueled Generator.
48"L x 25"D x 29"H
CALL 497-3200 OR CLICK to schedule your
HOW DOES AN AUTOMATIC GENERATOR WORK ?

True Power™
Technology
Delivers best-in-class power quality with less than 5% total harmonic distortion for clean, smooth operation of sensitive electronics and appliances.


DST Electric recommends that you add a Cold Weather Kit to your generator to aid in starting the generator even on the coldest nights. These kits are for regions where the temperature regularly falls below 32 degree F.
Battery warmer with a thermostat built into the battery wrap. When temperatures fall below an acceptable level, the thermostat activates the battery warmer maintaining optimum battery temperature for the best generator start up.
In addition to the battery warmer kits, a crankcase warmer is available. It is specifically designed to maintain optimum oil temperature for maximum starting capability in cold weather.




Quiet-Test™
Quiet-Test weekly self-test mode runs at a lower RPM. It is quieter than other brands, and consumes less fuel. Available on 17 & 20kW only.




Mobile Link™ Compatible

Mobile Link is the new cellular remote monitoring system from Generac that lets you check on your generator's status even when you are away using your computer, tablet or smartphone.
Sold separately.